Tune In Journal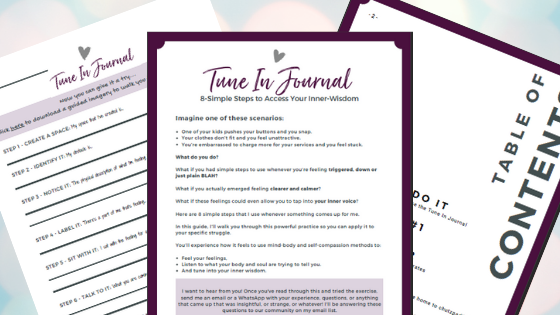 Imagine one of these scenarios:
One of your kids pushes your buttons and you snap.

Your clothes don't fit and you feel unattractive.

You're embarrassed to charge more for your services and you feel stuck.
What do you do?
What if you had simple steps to use whenever you're feeling triggered, down or just plain BLAH.
What if you actually emerged feeling clearer and calmer?
What if these feelings could even allow you to tap into your inner voice?
The Tune In Journal has 8 simple steps that I use whenever something comes up for me. In this guide, I'll walk you through this powerful practice so you can apply it to your specific struggle. You'll experience how it feels to use mind-body and self-compassion methods to:
Feel your feelings,

Listen to what your body and soul are trying to tell you,

And tune into your inner wisdom.
Subscribe to my list to download your free copy and the accompanying meditation:
"Rena's tune in journal is so helpful to me. I leave a copy in my pocketbook and sometimes if something stressful or triggering happens at work I take my pocketbook with the journal and find a nice and relaxing place to sit outdoors. Giving myself 10 minutes with the journal and taking the time to process my feelings and thoughts is so helpful and gives me the strength and energy to continue my day."