Hot & Cold Chickpea Salad
I made this recipe in a flash on a busy Lag B'Omer day. Read all about that here.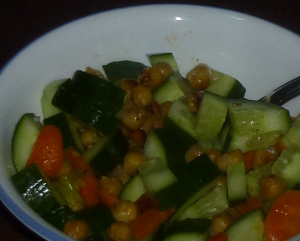 Ingredients:
1 can of chickpeas, drained and rinsed
2 medium carrots, peeled and chopped
1 large scallion, chopped
2 medium cucumbers, chopped
10 cherry tomatoes, halved
salt, zhatar, and spicy paprika to taste
olive oil for sauteeing and flavoring
Saute the carrots and the chickpeas until the chickpeas start to brown. Add in the scallion during the last minute of sauteeing, along with the salt, zhatar, and spicy paprika. Remove from the pan and put into a bowl with the cucumbers and cherry tomatoes. Serve while warm and enjoy!