I Gained Weight Over Chanukah
Here's what happened in my home over Chanukah. We fried latkes, we fried mashed potatoes, we fried tuna patties…we fried just about anything we could get our hands on. We had so much fun! We didn't think about our waist lines for a second.
Now Chanukah's over. And I gained weight.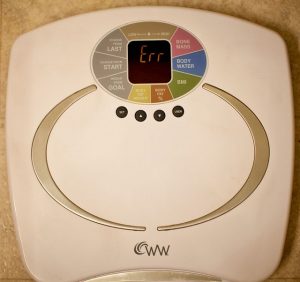 photo credits: -Paul H-
Yup.
My skirts are tighter and my face is a bit fuller.
And I'm not worried about it one little bit.
That's because, as we spoke about before Chanukah, I went into Chanukah knowing full well what I was going to eat, how much of it, and how it was going to make me feel.
This happens to me just about every Yom Tov. I indulge my family just a bit with all the trimmings and we put on some weight.
Now Chanukah's over. The dishes are clean. The smell of latkes is gone.
We're back in routine.
We're back to eating lots of fresh salads, drinking lots of water, and saving the nosh for those special occasions.
We do the same after every Yom Tov.
And you know what happens?
Within a week or so of us getting back into our regular healthy eating habits, the weight falls off as quickly as it came. No fuss, no stress, and no regrets.
Do you have regrets? Maybe you're being hard on yourself. Maybe you wish you would do things differently.
Ya know what? If you start getting back into those good, healthy habits, you'll also get back to where you were before Chanukah. You'll get the wiggle room back into your skirts. You'll feel better.
"It's the START that STOPS most people."
You can do it. If you haven't started yet, you can start today.